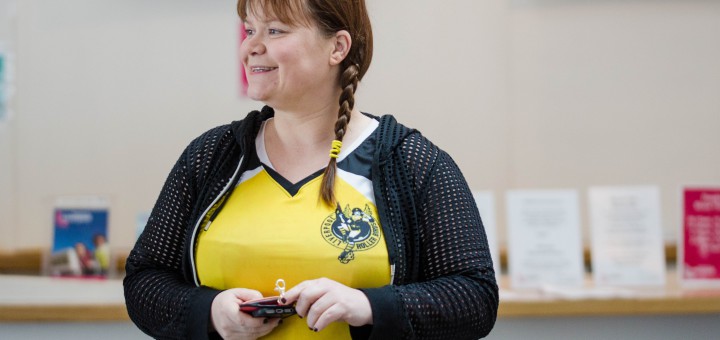 In 2015, we were asked to participate in Liverpool City Council's strand of the 'This Girl Can' campaign, originated and supported by Sport England.
The campaign focused on encouraging women to get out and get active  – to get hot, to get sweaty, to challenge themselves and their assumptions about what being active means for a woman. What better way to showcase those things than with roller derby?
We were pleased to participate and are so proud of our skater, Pops #767, who was chosen to be the representative for our league in the campaign. There couldn't have been a better ambassador for This Girl Can. Pops, as we call her, is exactly the type of modern woman who independently lives her life, raises her child, and finds time to actively participate in a challenging, physically demanding sport.
Pops has told us how roller derby changed her life. She said:
"I started in 2012 when my daughter was five months old. I wanted to do something different with my life. I was a mum, so had restrictions around childcare, but I just thought I would give something different a go."

"A friend of a friend played for the Sheffield team so I knew about the sport already, and then I happened to move closer to where the Liverpool Roller Birds trained in Garston."
This Girl Can aimed to show that misconceptions and stereotypes around women in sport, were in need of a change. Pops was a shining example of how much you could change with a little hard work and determination.
"I couldn't even stand up on skates when I first started. I couldn't do anything and it took me a long time to learn to skate properly."

"In total I was learning for about nine months. It took me longer than other people, maybe because I had just had a baby and was quite unfit."

"Even though I couldn't do anything when I started, all the girls were really supportive."
Since the roll-out of the campaign in 2015, the initiative of women from all backgrounds, and in all shapes, sizes, and fitness levels participating in sport seems to have exploded.
We are proud that, for a little while, Liverpool Roller Birds seemed to be the face of roller derby in the UK and key advocates for the fun of being active!