Liverpool Roller Birds – end of the season 2015
We can't believe it's already been a year since our 5th birthday party! We had a fabulous day watching the Birds skate and then partied the night away watching some awesome bands, so we've decided to do it all over again. Join us at Greenbank and the Zanzibar on Saturday 21st November for what promises to be a great end to the season.
First up, the Sisters of Mersey are teaming up with Furness Firecrackers to take on Vagine Regime in an unranked exhibition game, which we're sure is going to be great fun to watch. Vagine Regime are a team of queer skaters aiming, in their own words, 'to build an international community of queer derby folk'.  We love what they stand for, and they're fantastic skaters, so we're super excited to welcome them to our track.
In the headlining game, the Yellow Shovemarines take on Sheffield Steel Rollergirls' Crucibelles in their last ranked game of the season. Last time the Shoves took on the Steel Rollers, LRB clinched the win, so we can't wait to see who will come out on top in the rematch. The Shoves have been working hard right up until the end of the season and have plenty more new tricks up their sleeves to show off.

After the stars of the track have shown us what they're made of, we're all heading to Zanzibar to dance the night away to a whole host of great bands. We've got live sets from Sheepy, Lying Bastards, Raw Bones and a secret headliner! Here at LRB we know how to party, and we hope our opponents and fans are going to join us and celebrate the end of the season in style.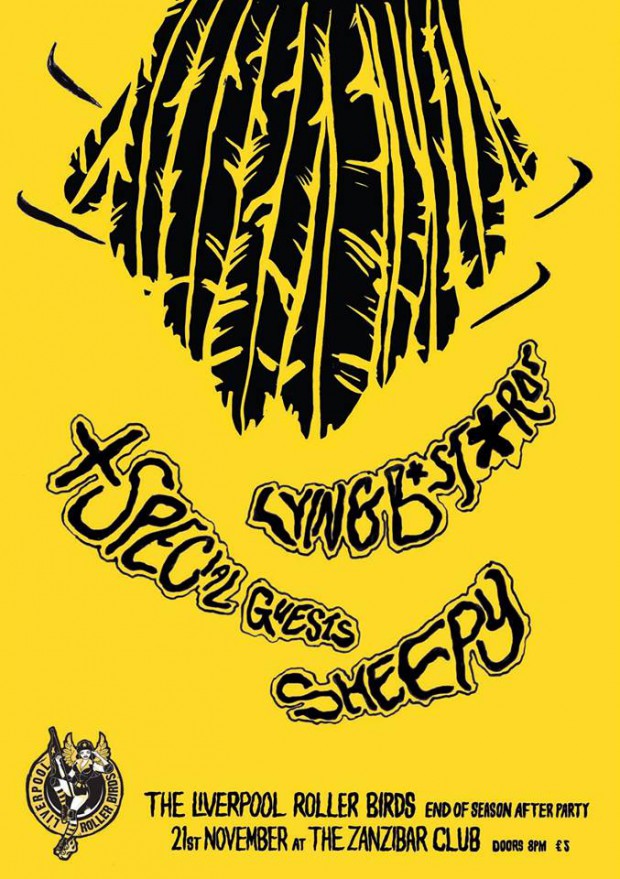 Tickets to the afterparty are just £5 on the door. You can get a combined ticket (bout & afterparty) here for £10, or if you can't make the afterparty, bout tickets are just £6.50 advance.
If you can't make the gig or the afterparty but you're looking for your LRB merch fix, make sure you check out our new eBay store. Our t-shirts can be winging their way to you anywhere in the world in just a couple of clicks!