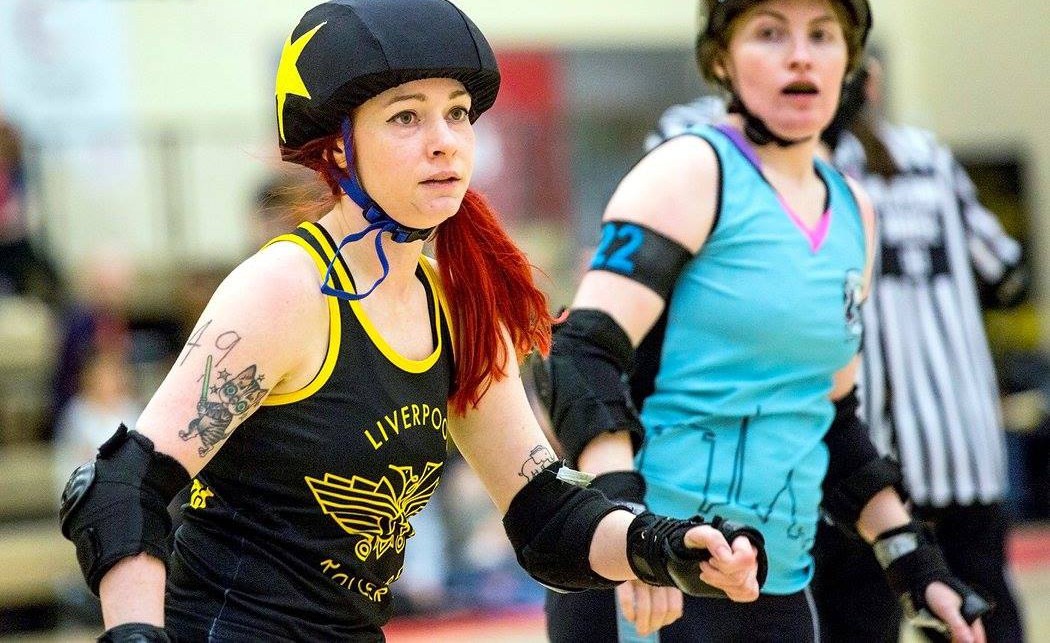 Skate with us!
Our training programme is open to women, transgender, intersex and gender expansive participants aged 18 and over. New skaters join the league as 'Hatchlings'. You don't have to be able to skate before you join us, all we ask is that you are ready and willing to learn.
We also welcome men as valuable members of our league, as referees or Non Skating Officials (NSOs).
Keep an eye on our Facebook page for updates on our next intake.
How often do we train?
New skaters and trainee referees train once a week on:
Birds (once you've you passed minimum skills) train at the following times:
Wednesday skills training, 8pm – 10pm
Saturday scrim, 12pm – 2pm
A Team skaters train:
Thursday, 8-10pm instead of Wednesday
All sessions take place at Greenbank Sports Academy, Greenbank Lane, Liverpool, L17 1AG
What equipment will I need?
To play roller derby you will need:
quad skates
a skate helmet
aggressive/plastic cap knee pads
elbow pads
wrist guards
mouth guard
All new skaters joining the 'Hatchlings' must have all this kit for their first training session.
Roller derby is a full contact sport so good quality safety kit is a must. Even if you are on a budget, a minimum set up of elbow, knee and wrist guards are required. If you arrive at a training session with kit that does not meet our minimum safety requirements, you will not be able to skate.
How much does it cost?
As we are a skater owned and skater run team, we have to charge fees in order to cover hall hire costs, insurance and keep the league running.
New skaters pay monthly membership fee of £25 and more information about this will be provided at the beginning of 'hatchlings' training.
What does training involve?
During our 'Hatchlings' programme for new skaters we will teach you all you need to know about roller derby and all the skills needed to pass the WFTDA 'minimum skills' test.
This will cover:
basic skating for roller derby: derby form, stops and falls.
contact: blocking, jamming and more!
rules and strategy: stuff you will need to know in order to be able to scrimmage.
Once you have passed your minimum skills test you are then allowed to 'scrimmage' (practise game-play) with the 'Birds' and your training progresses towards playing roller derby games in public.
Skater information pack
Our new skater welcome pack has everything you need to know about joining us.
When is the next intake for new skaters?
Keep an eye on our Facebook page for updates on our next intake or email hatchlings@liverpoolrollerbirds.co.uk.
We encourage all potential members to come along to our games and events to learn a little more about the sport and the team – you might also pick up some of the rules along the way!
If you can't wait to get involved, you could consider joining us as an NSO (Non Skating Official) member.
Transferring skaters
We consider transfers of post-minimum skaters on a case-by-case basis; please contact us for more information.
You can do it!
Watch Pops #767, our This Girl Can ambassador, talking about how anyone can have a go at roller derby and what it's like to be part of Liverpool Roller Birds.