Getting our skates on at Museum of Liverpool
Spinderella was one of our crew who headed down to  Museum of Liverpool on Saturday 5 March, for a special International Women's Day event:
"It felt super exciting to be at the fantastic Museum of Liverpool on wheels! Wearing LRB yellow and huge grins, 15 of us arrived at the museum before it opened.
We set up a table with our t-shirts and leaflets on and a projector showing Pops in the This Girl Can video. Five of us kitted up in the stunning atrium and tentatively tested the floor.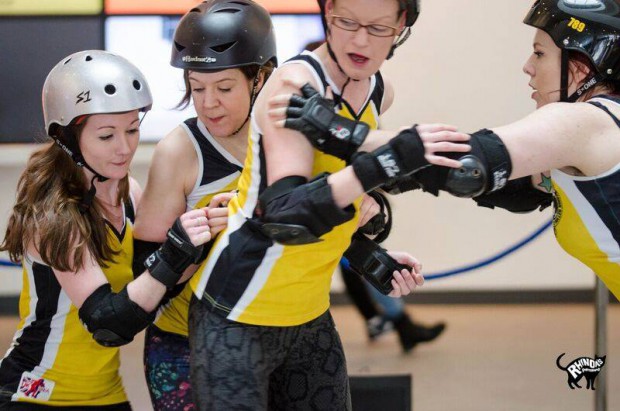 Happily it was surprisingly nice – grippy but not too grippy – so we didn't have to put outdoor wheels on. The museum had generously given us a really significant space to demo our skills including the wee spiral on the floor to play around on, so you could not miss us as you walked into the museum.
As the public began to filter in, we tried out a few basic stops and transitions.
People seemed intrigued by our presence and we chatted to them to let them know who we are and what we do. We worked our way up to some walls and a jammer trying to get through.
This attracted quite a lot of staring and interested people stopped to watch us. At some point the giddy excitement of being on public display got too much for us, and Daria Dynamite jumped over a prostrate Bionic Ledge!
The guys from Bay TV also popped in to do an interview and film us in action – you can watch the full video here.
We had a lot of fun being in the museum. I felt in awe of being allowed to skate in this space and for this short time weave our wheels into the story of Liverpool.
The museum is full of fascinating and inspiring stories of the lives of women, including the battle of the suffragettes of Liverpool.
Its Wondrous Place gallery also features a load of cool Liverpool sports and sporting achievements (although not the Liverpool Roller Birds, yet!).
Being there for International Women's day meant such a lot to us. We are not fighting for the right to get the vote but we wouldn't be here if women hadn't and didn't continue to stand up for what's important.
We are proud of being women and roller derby focuses on our strength, speed, agility and team playing, as women. It's an empowering and positive sport for women today.
Thank you so much to the museum for letting us spin our skates for International Women's Day."
Images by sKatie and Museum of Liverpool.