From plastic skates to a gold cup – Ten years of Liverpool Roller Birds!
We flew into existence in November 2009, growing from a handful of fun-loving and hard-working skaters, to a full-fledged WFTDA-member league, with a fair few trophies in the cabinet!
Ready to party with us?
We're getting ready to celebrate with a big birthday game on Saturday 2 November 2019 (and a birthday bash too, of course) so make sure you grab your tickets to see our A and B teams take to the track against London Rockin Rollers.
But how did it all start and what have been some of our top memories from the last ten years?
We spoke to founding members Mickey and Ginny about what it was like setting up Liverpool Roller Birds and gathered some golden moments from two of our veteran skaters – Daria Dynamite and Metal Alchemist – who have been with the league since day one.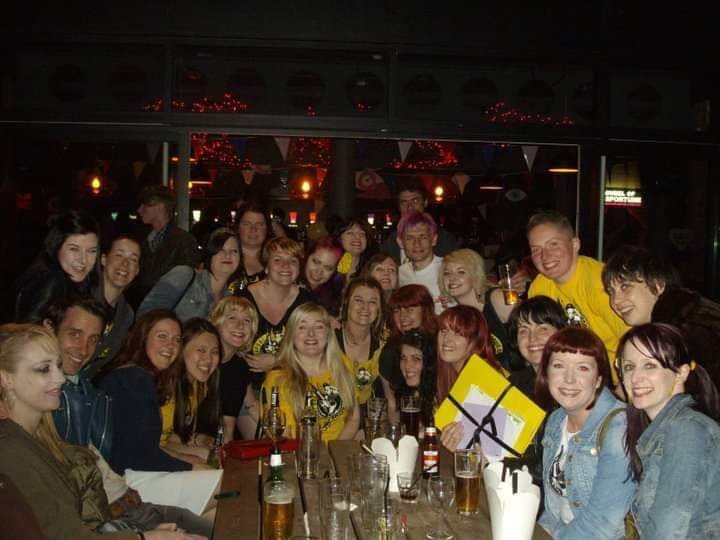 What lead you to set up LRB and what was it like getting the league started?
Mickey: The decision to start the league was made on our way home from practice in Manchester with Mel and Von, though a lot of our planning happened around our kitchen table. We came up with the name for the league in a drunken conversation during a night out in Heebie Jeebies!
We used to make a weekly, sometimes bi-weekly trips over to Manchester to play with Rainy because they were the closest team to us. Me and Ginny lived in Aigburth at the time. Ginny was the first of us to start skating and then I joined in. Rainy was supportive of us setting up our own team and Missy Rascal came over to help with one of our first training sessions.
Between us, we had played one mixed bout before starting the league, so we had no idea what we were doing. We did ok though! We borrowed a bunch of strange little plastic skates from the local roller disco and put up a load of flyers. Loads of people turned up to that first taster session, it was buzzing.
Ginny: It was all a bit bonkers in the early days. I remember one of our skaters, Dia Vanna Die, turning up for practice in just a swimming costume. At one session, Mickey was being pushed around the track in a shopping trolley. Honestly, I'm surprised we ever got anything done!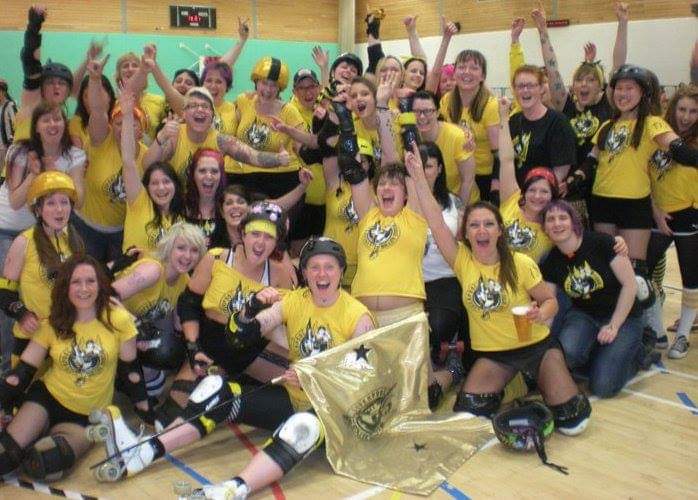 What was your ethos for the league when you started out – and do you still see that spirit in LRB as it is today?
Mickey: All I know is what we put in place from the start is still very alive within the team today, and I think that's what I am most proud of. I still see a strong group of women who are supportive of each other and pick each other up. It's been the core of the team from the start and I can see that is 100% still there today.
When we started the team we were learning on the job. Seeing how, 10 years on, you guys have taken this to places we never even thought possible, is amazing. I am incredibly proud of you all.
Ginny: Our ethos from the start was really; work hard, look after each other and have as much fun as possible. I still absolutely see that now.
The Great Yorkshire Showdown (GYS) was one of the first major games for the team, in 2010. What are your memories of that game?
Daria: The first time we actually played together as a team was at the Great Yorkshire Showdown against Sheffield. We got battered because we didn't know what we were doing, but we had the best time. The photos are of us just standing around on track grinning!
Ginny: I remember just general hysteria at GYS. I had to fish people out of the cafeteria, wrangle them onto the track and keep them calm. I also had to try and stop Jade eating a whole rotisserie chicken before the game! This was the first time we had LRB t-shirts I think – it felt like we were becoming a proper team.
At the next GYS, Sissy got a standing ovation for one jam. We were losing and I believe it was the last jam. Sissy was a blocker at the time and I don't think she had ever jammed – let alone in a bout. Well, she was an absolute hero! She just kept going round and round – the place went absolutely bonkers for her.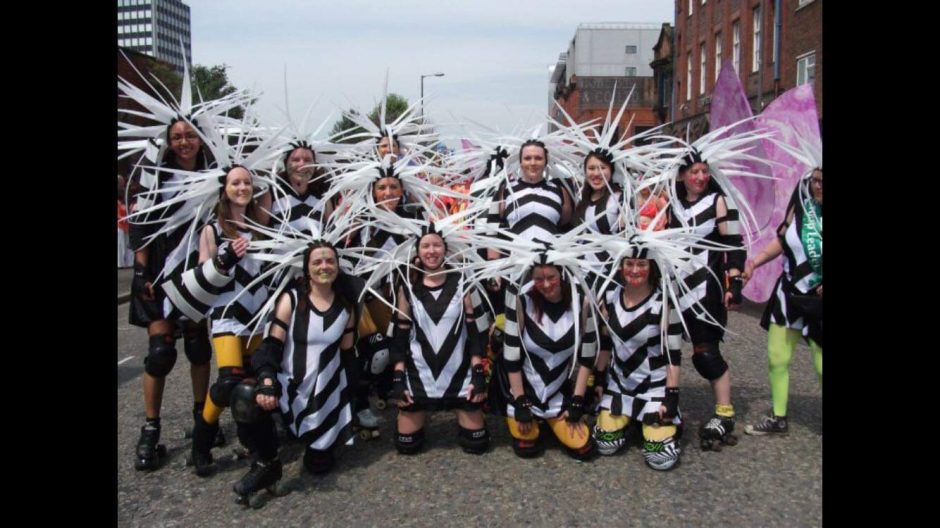 What are some of your other highlights from your time at LRB?
Daria: Our first WFTDA tournament that we did this year in Glasgow. We were super excited, but didn't really know what to expect having never played three games over two days before, but it was awesome. We won two out of the three games and played some really tough but lovely teams.
Also, it was a highlight when we went to watch Becky Ruckus play with Team England at the Thunderdome. We shouted and screamed so loud that she was super embarrassed by us!
One time we had a scrim at Greenbank and I was running late and brought Jade (Metal Alchemist) a burger. When I got there she was in the penalty box (1 min penalties!) and she ate the whole thing during her penalty! The ref didn't know whether it was a penalty or if he was impressed or disgusted by it!
In the early days we took part in a mad parade (the Mayor's Parade) wearing weird costumes and not everyone could skate yet. Amy LeStrange went flying down the hill at Queens Square bus station and Mel has to run after her to catch her!
I've also loved all the boss guest coaches we've had over the years – Smarty, Kid Block, Rogue, Juke Boxx and Ballistic, Stef Mainey and Sarah Chambers especially.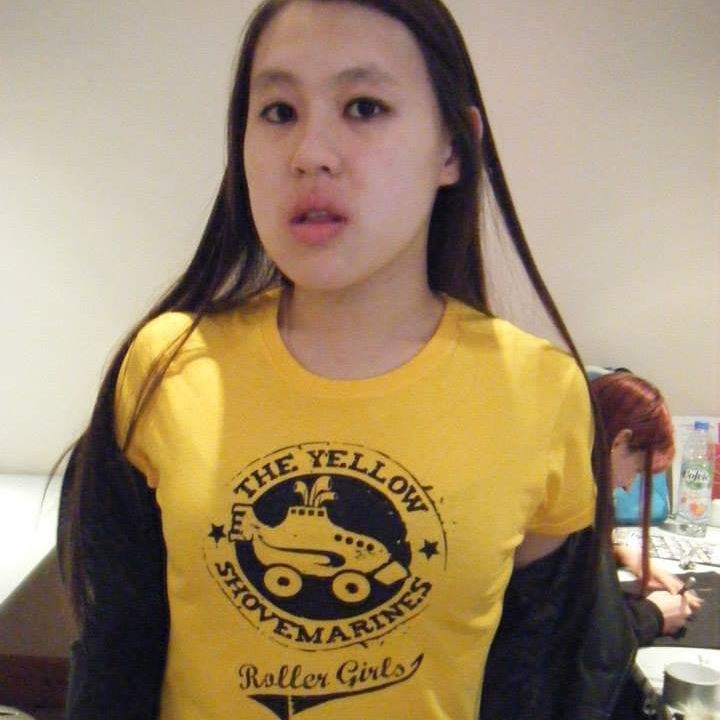 Metal: One of the funniest moments was playing against Birmingham! Daria was completed stuck against the giant amazonians from Birmingham. Pops went to skate back to help, realised what she was up against, pulled an "I'm not doing that" face and skated away! Haha! The whole audience was laughing!
Another highlight was leg wrestling in the middle of a car park in Copenhagen while we waited for a coach!
Mickey: In the early days, the afterparties were completely bonkers too. They usually started on the coach home, singing power ballads, and then we descended on someone's house for a party (sorry Disco!)
And let's not forget Ginny drunkenly planking to the entirety of 'The Greatest Love of All' in a bar during an afterparty. That song is nearly 5 minutes long – no-one could beat her at planks.
Oh and when we got mentioned in the Cilla Black fan club mail-out…we knew we had made it then!