Home Double Header: Summary of LRB (B) vs. Wakey Wheeled Cats and LRB (A) vs. Tiger Bay Brawlers (B)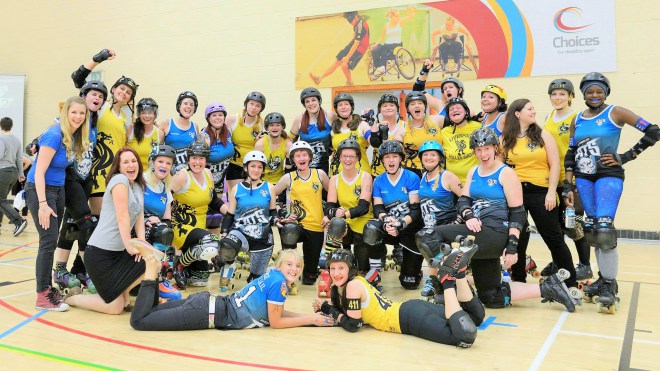 Saturday, September 20th was an exciting day in Liverpool and our teams had been training hard.  The month of August had been taken off from bouting and travel scrimmages so that we could focus on training.  As our fans discovered during our double header bout, the training certainly paid off and we couldn't be more chuffed!
The first bout (we just can't get used to calling them "games" just yet!) of the day was Liverpool Roller Birds (B) vs. Wakey Wheeled Cats.  LRB (B) came into this game as the underdogs; lower in rankings and predicted to lose by approximately a ratio of 3:2, we had high hopes that our strategy and hard work would pay off.
Wakey also came prepared, though, and they were fighting the whole while.  No matter how much we battered each other, we never stopped smiling and enjoying every second.
These are the best kinds of bouts, where everyone's having a blast and improving their game.  We absolutely loved hosting the Wakey Wheeled Cats and would love to play them again.
Final score: LRB (B) 308 – Wakey 92
Liverpool Roller Birds  (A) vs. Tiger Bay Brawlers (B)
We hadn't really come down from the high of the first bout but it was time to cheer on the big Birds as they took on the Tiger Bay Brawlers.  Predicted to be a very close bout, again the focus and training we'd done in preparation over the last few months was intense.  This bout was a blinder from the first whistle.
The hits were hard, and the jams were fast – so fast that they'd barely begun before being called off.  There were many jams where it was 4-points and a whistle – even some that were 1-point and a whistle.
We can say this about Tiger Bay – Brawlers is the right name for them! They hit hard, and fast, and they skate fast, and overall are just a joy to watch on skates.
In the end, Tiger Bay took the win, but they'll never take…OUR FREEDOM! (Sorry, wrong movie.  I got distracted by Tinky's pants).
Final score: LIverpool 170 – Tiger Bay 191
*Photos courtesy of Joe Ehlen Photography and Peter Harris.