Liverpool Roller Birds – 5th Birthday Bout and Bash!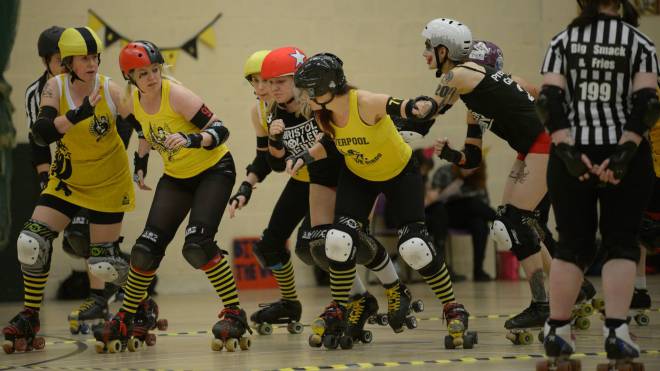 We had an amazing fifth birthday celebration (you may be able to tell by the fact that we're STILL recovering!).  The order of events began with a double header at home against Bristol's A and B teams.  
November 8th saw our B-team lacing up first for an epic battle against Bristol's B-team.  Our Chicks were the underdogs in this fight, but you would not have guessed it when we came out fighting! The Scoreline stayed close throughout the first half, with several lead changes.  The Chicks were fighting, but so were Bristol! Bristol was able to capitalise on some amazing power jams and came away with the win, but they had to work very hard for it!
Next on the agenda was Liverpool A versus Bristol A.  Again, Liverpool came in as the underdogs.  Longtime Roller Birds fans know that means we get a it more pumped and try even harder.  Our A team came out with the hard hits and the nippy jams, and again the scoreline was close at first.  The second half saw Bristol widen the score line and eventually pick up the win.
Final scores were:
LRB B-team 164 – BRD Bees 229

LRB A-team 196 – BRD Harbour Harlots 354
Photography courtesy of Joe Ehlen Photography.